Middlesex's Best Hog Roast Caterer
Hello and welcome to Spitting Pig Middlesex. We provide specialist hog roast catering services for all types of events and celebrations. Our authentic flavours and our signature mouthwatering menus have been developed over many years by our professional team of dedicated chefs – and we believe we've got something to tantalise the taste buds of each and every one of your guests! Spitting Pig Middlesex can help you to deliver a unique and unsurpassed dining experience. Browse our sensational choice of menus and begin to get excited about the possibilities.
Spitting Pig Middlesex – Catering Services

If you are hosting an event or special celebration (such as a birthday party or a wedding) and if you are undecided on the type of catering that you think your guests would enjoy the most, Spitting Pig Middlesex can help. Our complete package of services gives you everything you need to ensure 100% dining satisfaction, from the moment your guests are treated to the alluring aromas of roasting hog meat until the very last plate has been cleared, you're in safe and experienced hands.
Our quality catering service:
Drinks Reception – We'll help you to set an ambient and welcoming tone with a superb drinks reception hosted by our friendly and well presented front of house staff.
Serving Options & Waiting Staff – Plates, cutlery, side tables, gazebos, and more. We provide the full hog roast dining experience, including the option of waiting staff to cater for large groups.
Menu Choices – We provide bespoke menu options to cater for all dietary needs and preferences. This includes vegan options, vegetarian options, and gluten-free options.
Hog Roast Catering Solutions – Any Event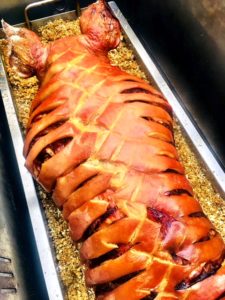 We cater for events and special occasions of all sizes. Whether you're planning an intimate gathering (indoor or outdoor) of around 20 people or whether you're searching for the ideal catering solution for a much larger event such as a wedding ceremony or corporate event numbering around 200 guests, we can help. View our extensive menu options and get inspired. Spitting Pig Middlesex will pull out all of the stops – we deliver a hassle free and super tasty first-rate catering service.
Machine Hire from Spitting Pig Middlesex
Spitting Pig Middlesex is here to help, whatever it takes. If you'd prefer to become the head chef of your event or celebration, we're happy to hand over the apron and the tongues and leave you to enjoy your day. Speak to us today about our machine hire service. We'll deliver one of our pristine hog roast machines to your door, complete with your choice of locally sourced fresh meat and vegetables. Our friendly staff will help you to get set up before talking you through some practical tips on our easy to use equipment.