Here at Spitting Pig Middlesex we offer far more than just our hog roast catering services, we in fact give the option to keen hosts who want to impress their guests the ability to cook their own Spitting Pig inspired roast. Our highly professional hog roast machines are available to hire for either a day, weekend, week or even month. We have a variety of hire packages that can offer a cost effective solution to your catering requirements.
In previous years hog roasts were hard to come by as they were seen as an expensive option, however now it's a real practical and effective way to feed a large number of guests. If you haven't already experienced a Spitting Pig Middlesex succulent, tender hog roast paired with perfect crispy crackling then you will soon be having an experience that you will remember. For those who have tried our delicious roasts before you will be surprised to hear how you can create such sensational flavours yourself, (with a few Spitting Pig tips of course!)
Once Complicated Catering, Now Made Easy!
With decades of experience within the industry you really are turning to the hog roasting experts to help you with your catering. So much so that we recognised flaws in the machines that we were using previously and decided to design and manufacture our very own brand of hog roast machines. Our machines are the real foundations of the hog roasting world now and have assisted in the hog roast catering option becoming so popular, as it's now accessible to all! The reason our machines are the finest machines you will come across is because they have been designed by expert chefs, with you in mind, both a professional chef and even a beginner. Either way our machines are capable of producing the same fantastic results regardless of your ability. Additional seasoning and scoring skills are always a bonus, however for the novice hog roaster we are more than happy to assist getting the pig prepped before we leave you to finish the roasting process.
Not only are we there to assist you when we deliver the machine but we also provide you with the gas and even a pig if you are unsure where to source one yourself. We provide everything you need to successfully roast your pig. Upon collecting the machine we are always excited to hear how you have got on and hear about your guest's reactions to your achievements.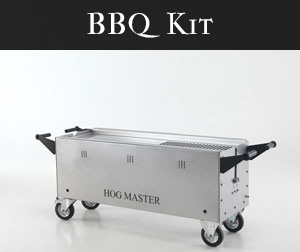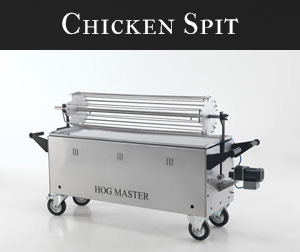 Our hog roast machines are so versatile that you don't just have to cook a pig, you can use the machine to cook a range of other meats and even side dishes. Chicken, beef, lamb, potatoes, you name it our machine is capable of cooking it, we've even know pizzas be cooked by using our machines! To widen the options for you, consider our hog roast machine attachments to give your guests even more! Use our BBQ attachment to make sausage and bacon rolls, (even while the pig is cooking). Or hire our chicken spit and roast up to 36 chickens at once! Our oven like machines are capable of producing an entire meal for you, we are happy to talk you through the options and advise you on the best solution for you.
We aren't restricted as to where we can bring the hog roast machine either, our machines fit through any standard sized doorway or gateway and are very easy to push or pull across most terrains. Our tough, durable machines are an easy resolution for you when it comes to needing to feed all of your party guests in an impressive, memorable way.
So here at Hog Roast Brentford we let you take the pleasure in providing your guests with high quality food cooked fresh by yourself, while you become a hog roasting chef for the day. Believe us when we say the whole process from you initially contacting us to us finally collecting the machine from you, just couldn't be easier!