Having a hog roast at our business event was a brilliant idea!
The Hog Roast made a great centre piece for guests attending the networking event and a great conversation starter. The food was absolutely delicious and we couldn't have asked for more!
Stuart
Thanks for a great feast it was outstanding!
We'd definitely book you again! Everyone was talking about how good the food was!
Thanks again
Andy
All I can say is wow wow wow!
With a severe gluten allergy, my husband was hesitant to hire outside caterers for the party but we are so so glad we did.
The team were so careful in making sure all items were separated and all spoons, knives etc. used in serving were kept apart too. It really put his mind at ease.
We cannot fault the food – everyone enjoyed the hog roast and the desserts were a great addition to the meal.
We will definitely be using this company again.
Hi Sophie,
Darren and his team pulled out all the stops to make it to our event in good time and all turned out excellently.  Roast hog was delicious, and everyone commented how much they enjoyed it.
Darren and his team are a credit to you.
Many thanks
Ashley
Hi Darren,
Anna Smith here. I got in touch with you months ago and gave your details to my daughter Jess Smith. I'm writing to thank you so very much for the fantastic Hog Roast meal your team provided at Jess and Michaels wedding reception last Saturday, at St Matthias Church, Brighton. The weather was atrocious but your staff were able to reorganise and serve the food inside for us. I was really very very impressed with the food, thank you so much. The pork was succulent and hot an the salads were excellent, imaginative, tasty and so colourful.
Your staff were lovely, friendly and professional. Please pass on my gratitude to all of them.
I'm so pleased i found your company on-line.
Huge thanks again,
Anna Smith.
Thanks so much for a fantastic day last week. We couldn't have been happier with everything you did to help and everybody couldn't stop raving about how much they loved the food!
Please say a massive thanks to everyone involved!
Charlie
Hi Sophie,
The Spitting Pig were really fantastic on Friday night. The food was delicious and Darren and Lyndsay were just great!
Will highly recommend The Spitting Pig.
Christine
Hi Sophie,
Darren and his team pulled out all the stops to make it to our event in good time and all turned out excellently.  Roast hog was delicious, and everyone commented how much they enjoyed it.
Darren and his team are a credit to you.
Many thanks
Thank you for going above and beyond last weekend for my husbands birthday.
Everybody had such a great time and the food was so fresh and well made. Really happy with everything from start to finish!
Thanks Again,
Olivia
HI Britt
We had a great day on the 20th and the Hog Roast was a real success.
The food was great and your team made the catering side of it feel effortless.
Thanks very much,
Olly
Hello,
Had you guys for our evening wedding food and oh my god it was better than the wedding breakfast (Just don't tell my venue haha) I so wish i could have picked you for both! Everybody couldn't get enough of the food and people were still munching on the crackling way into the night … i was like the best unintentional snack ever!
Cant wait to book you again soon!
Emily
Thanks again for such a fab evening! We loved absolutely everything about dealing with you guys and the food was just as we expected, So yummy and we will 100% be using you again.
Madison
The team at Spitting Pig are professional, courteous and most importantly friendly.
From the moment we booked to the day of our event, communication was excellent and all of our needs and wants were met with no issue at all!
The food was amazing and really took the pressure from our shoulders when planning this special day so thank you very much!
If you're looking an outstanding hog roast then look no further. The food is simply the best. They literally made everything a breeze – customer service, food prep and variety all were to the highest standard.
Good afternoon, the food went down a treat at my son's 18th birthday party and the beef burgers were a firm favourite among the teens!
Your office team were helpful when we were trying to decide on the menu and their advice was very much appreciated. Although it was a formal event, it was important to have food that the kids would enjoy and you absolutely nailed it. Will look forward to seeing you again at our New Year's party!
Spitting Pig really doesn't disappoint, the service is always reliable, friendly and fast and the meat is tender. It literally falls off the bone. I love this company and would 100% recommend to anyone who enjoys a brilliant service and beautiful food.
Hi Kate,
Thank you for your email – all was really good with the food thank you and we have had so many compliments on it.
The two guys there on the day were very pleasant and nice guys to have onsite, very courteous and helpful.
All in all a very good experience.
Many thanks
Hi Penny,
We were very happy with the efficient and friendly service given by the guys from Spitting Pig at our wedding party on Saturday. The food was also very good, thanks to all concerned.
Kind regards
Good Morning Geordie,
The event went fantastically and the staff couldn't have been any more helpful.
Thank you so much for all your help in the lead up to the event.
Cheers
Hog Roast Longford always want to ensure that all of our customers and their guests can enjoy our food, so even if you're thinking of featuring a different meat to our much-loved signature food, or if you need options for special diets, or if you're planning on having a menu of multiple courses (or all of the above!) our trusted professionals can always cater with ease. We also have four of our very own standalone menus on offer, including our Traditional Barbecue, Loaded Fries, Southern Slow Roast and Alfresco, and one of these may make deciding easier and will also impress everyone you're inviting with something pretty special.
This blog is all about our Italian-style, three-course Alfresco standalone, which includes a hog roast centrepiece for your main course, accompanied by hot and cold sides, as well as antipasti meats, cheeses and breads for your starter and homemade desserts to finish your meal off perfectly too. It's a great way to treat your guests to fresh, high-quality, homemade food, which is what Hog Roast Longford is known for, as well as something unique that we think will wow them.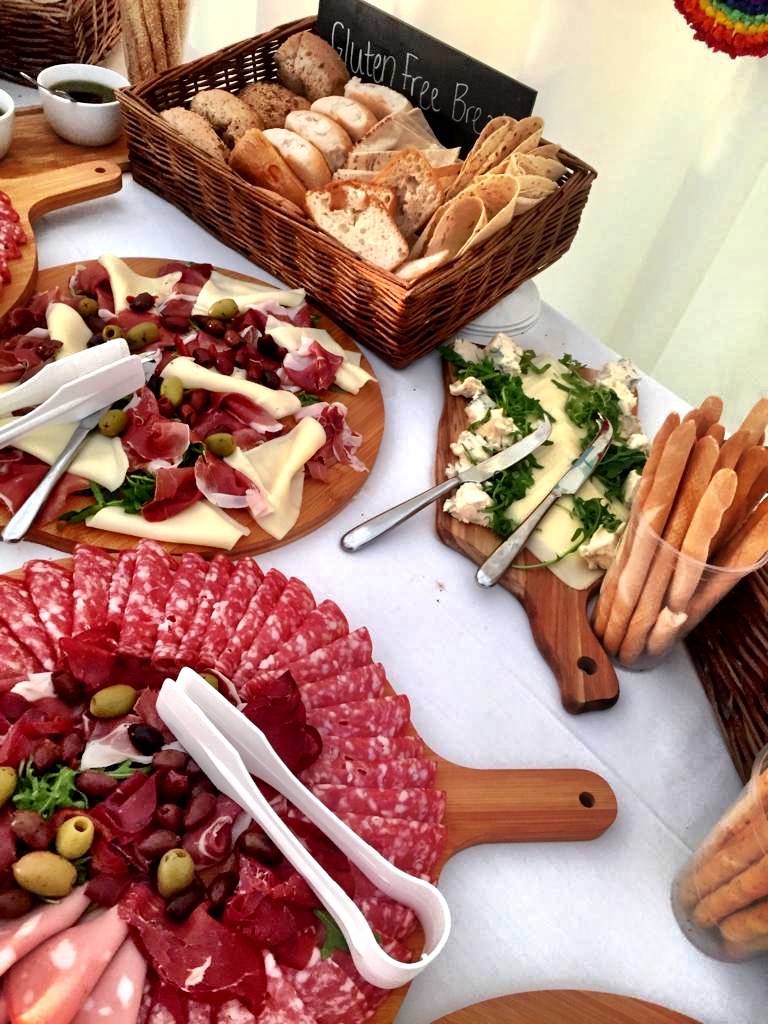 We start off your meal by serving the starter platters to the tables, which are full of Prosciutto di Parma, salami, Parmagiano, Gorgonzola, mozzarella, ciabatta, herb focaccia and breadsticks, as well as balsamic vinegar and extra virgin olive oil dips. We serve them rustic-style on wooden boards, where you can help yourselves to as much as you want, and they taste as good as they look! Next up comes your hog roast, which we carve away and serve together with crispy crackling, our homemade duo of sage and onion stuffing and apple sauce, fresh rolls and wraps, our gourmet coleslaw, a selection of seasonal leaves and a tomato and mozzarella salad, as well as either buttered new potatoes or roasties, which you decide on in advance. Leave some room for our scrumptious desserts, though, which you also choose when you book, such as cheesecake and profiteroles or lemon tart and summer pudding. It's the perfect way to end this feast.
For this gorgeous menu, call Hog Roast Longford and we'll get you booked in.
A really big thank you, the catering was brilliant, enjoyed by everyone. Would use you again and recommend you.
Regards
The food and service were delightful! The pig was succulent and staff appreciated the option for seconds! Will definitely be using this company again!
We finally had our wedding after multiple postponements due to the corona virus and it was everything we could have asked for, we managed to get the 100+ guests we wanted and got to keep our event with Spitting Pig despite having to postpone multiple times prior.
They were very understanding and once we got a final date for our wedding, they had us booked back in within a day.
On the day of the wedding, they were awesome, catered to every guest and not a single person went home hungry.
I couldn't have asked for a better wedding day and I highly recommend to anyone that wants the perfect food on their special day.
Spitting Pig catered my 30th and it couldn't have gone better. BBQ was 100% the right choice so that everyone had plenty to choose from and the staff serving couldn't have been friendlier. I would definitely recommend this company to anyone looking for reliable and delicious catering!
The food was very good and the service was excellent. The catering team were such a pleasure to deal with, polite, professional and able to adapt and accommodate last minute changes.
I would highly recommend your services to others and hope to use you again in the future.
The party on Sunday was a great success.
Fantastic service, lovely people and a delicious hog roast.
Loads of people went back for seconds which only shows how good it was!
Highly recommend The Spitting Pig. Many thanks.
The food was absolutely amazing and everyone was left very happy and full! Thank you to the team for being so efficient and friendly.
Spitting Pig Middlesex have just catered for my daughter's intimate baby shower – nothing was too much trouble, great comms, real plates(!), excellent personal & caring service but most importantly the food was amazing. All the guests commented very positively. Thank you – I have already recommended you. Well done and thank you.
We had a menu 1 delivered at our house for my partners 40th birthday. There's 7 of us here whilst schools and universities are off and we wanted to try and do something special to celebrate the occasion. The food was gorgeous and my partner was so surprised! Thank you again.
I ordered a hog roast for my 70th birthday and everything went as planned. The company contacted me prior to the date and arrived exactly on time to set up ready for serving at the required time. The whole set up and service was very professional, in fact a few of my guests commented on having the same for their upcoming celebrations. Everyone enjoyed the feast and most went back for second helpings. I was very impressed with the professionalism and totally recommend this company.
Guests could not stop talking about how delicious the food was. They did a great job with staging and serving. We would recommend your company to anyone hoping for delicious food and a great evening
A massive thank you to the Team for making our wedding day even more of a special one. Almost every guest made a comment on our Hog Roast and the variety, standard of the catering on the day. All the stops were pulled out to make it all perfect, and I have to say from booking, to leaving the leftovers you guys have been an absolute pleasure to deal with.
I am so glad we opted for both day and evening menus with you guys both the Hog roast and Gourmet BBQ food on offer at our evening reception were exquisite and every detail though of down to the presentation and plate wear!!!!
I Honestly cannot thank you all enough.
Fab food and really lovely staff. The food was cooked to perfection and everyone was going back for seconds. My little desert was divine.!
The best company I have booked with, I am pleased that they are so professional when it comes to cooking the food just right and serving the food. The flavours that came through were amazing, with fresh ingredients that really came through.
I was looking to hire a mobile catering company for a Hog Roast and was recommend this company. I was a little hesitant at first as i wanted my big day to be perfect. They did not disappoint.

The pork was so juicy and tender, all the extras tasted great too. If you want something a little bit different from a traditional buffet then give these guys a shout. They will not let you down.
This catering company is a definite must. Have never had a bad experience with them, and staff are always polite and helpful. Food is always amazing, with a wide selection also.
Lovely food and lovely staff. The food was such good quality and really delicious! Would recommend.
I will definitely be using you again and will certainly be recommending your company to anyone looking for catering.
Thank you for a fab evening.
Hi, the event went so smoothly and the pig was amazing! Your team were fantastic too.
Thank you so much, I'll definitely be recommending.
Thanks again
An absolutely fab day.  Food was cooked to perfection and plenty of it.  Would definitely book again when I have another big birthday and already given cards out.
Yes my event was a success on 3rd august, it was delightful food and I was very pleased with the services, the caterers were very friendly and professional.
Hired Spitting Pig Middlesex for my wife's 50th birthday, a hog roast menu with a selection of salads. Turned up on time, and set up quickly and quietly, all the guests thoroughly loved the food! Would use again!
Wanted to drop a quick message to thank you for providing a great service at my wedding. The hog roast with stuffing and salads were great and they went down really well with every one here. Would highly recommend!