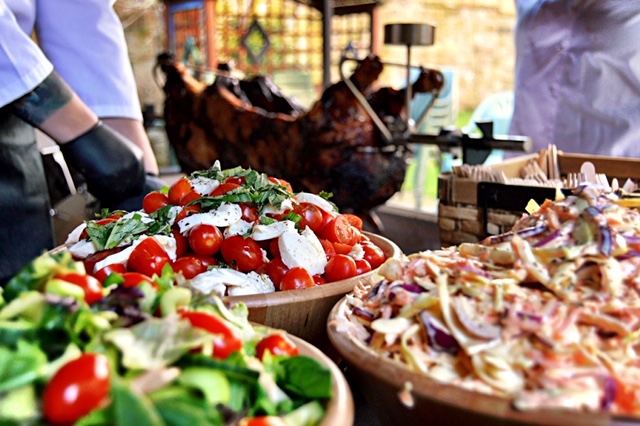 If you want to take advantage of Feltham's abundance of open spaces by hosting a special occasion or community event outdoors, but you don't want to compromise on the quality of the food, the Hog Roast Feltham team are the ideal catering company for your event. There are several reasons why we are such a suitable catering choice for all manner of events in Feltham. We are the premier providers of hog roasts in the Feltham area and we have spent many years catering with great success for a diverse array of large and small events. Our wholesome hog roast sandwiches are the ultimate crowd pleasing option for any event, and our diners don't just love the quality of our ethically reared pork, they also love how we cook it on-site in full view of everyone so they can savour the aroma and enjoy watching the cooking and carving process, which never fails to whet everyone's appetite.
Fresh, Quality Catering With Hog Roast Feltham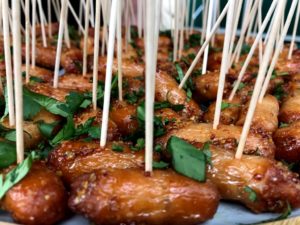 Our hog roasts may be our pride and joy, but they are far from the only option that we have in our repertoire. Hog Roast Feltham offers an impressive range of menu that are all full of high-quality freshly made dishes and fabulous locally sourced produce. Because the slow roasting method is such an effective way of cooking many different meats, we have lots of other options to choose from, including chicken, beef and lamb to name but a few. All of our alternative meat choices are also sourced from ethical producers and just as tender and tasty as our classic pork. We don't forget about our vegetarian and vegan diners when we are creating our menus either – regardless of whether you would like a buffet or a more formal 3 course meal, we always offer a multitude of meat and dairy free dishes. We are able to make all of the items on our extensive menus from scratch in any location, including most types of indoor venues.
If you want innovative catering solutions for any event in Feltham, along with the best slow roasted pork in the area, the Hog Roast Feltham team should be your number one choice for any event.