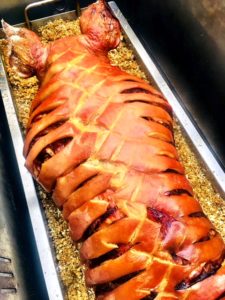 For all of your mobile catering needs in Greater London's westernmost town, look no further than the Hog Roast Harefield team. We have spent many years wowing our diners with our superior slow-roasted pork for a wide range of different events in all manner of locations in Harefield.
We pride ourselves on the quality of our locally-sourced ingredients and our ability to provide perfectly cooked meat for any amount of people in any setting. We are a highly versatile catering company with the ability adapt our approach for every event we cater for and we can offer you a truly bespoke dining experience.
Our menus are just as versatile as our skilled catering team and we have choices that are suitable for any type of special occasion, family celebration, wedding reception, corporate entertaining and large public events.
Harefield's First Choice In Caterers
As good as our pork is, it is far from the only thing on Hog Roast Harefield's diverse range of menus. You can also indulge in a choice of our equally delicious alternative slow-roasted meats, including blushing sirloin of beef, moist, whole roasted organic chicken and tender spring lamb.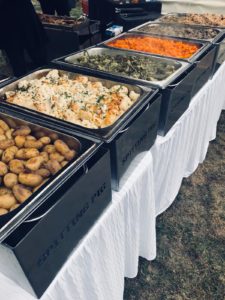 Meat-lovers are in heaven when they try our food, but we also cater just as successfully for our vegetarian and vegan diners, because we want everyone we cater for to have a great time and an unforgettable meal. Our inventive meat, dairy and gluten-free dishes always get an enthusiastic reaction from everyone who samples them, and we are continually developing our repertoire.
We prepare all of our dishes from scratch on-site on the day of your event, including all of our sides, starters, desserts and canapes. We always arrive several hours before show time to make sure everything is perfectly prepared and presented and ready right on cue.
If you do opt for a more formal sit down meal, we can also supply our own experienced waiting team to provide table service and front of house staff to provide a friendly welcome and greet everyone with a tray of individually handmade canapes.
If you want the best meat in the area, varied menus that will delight everyone, high quality, freshly prepared ingredients and flexible service, please do not hesitate to get in touch with us here at Hog Roast Harefield.