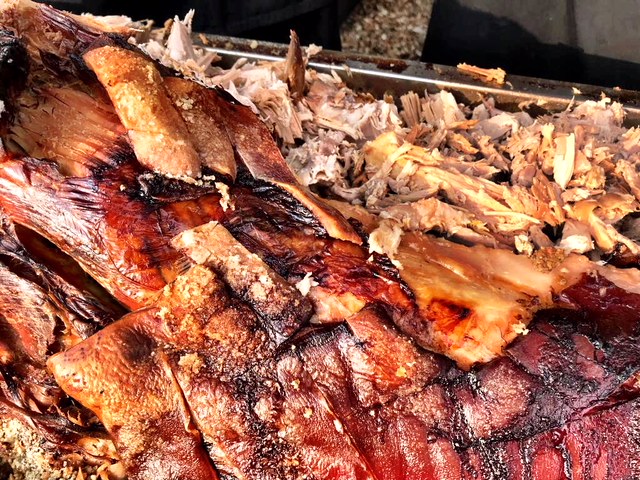 If you are planning a special occasion in the town where Elton John performed his first paid gig and you are looking for something a bit out of the ordinary in the food department, then you have come to the right place.
Here at Hog Roast Northwood we are the number one supplier of hog roast catering services in the area and the quality of our slow-roasted pork is unsurpassable. Everyone who has even tasted our pork agrees that they have never savoured such tender and flavoursome meat before, and we have never come across anyone yet who hasn't absolutely loved our food.
Even though our ethically reared and perfectly cooked pork is always the major talking point at events we cater for, we are very considerate of the diverse tastes and dietary requirements modern diners have, which is why we also offer a wide range of different menus, from relaxed to refined, depending on the nature of your event and the needs of your guests.
Fresh, Flavourful Catering Perfected In Northwood!
Since slow roasting is by far the best way to make the most out of any type of meat, we can also supply a tempting selection of alternatives, including chicken, turkey, beef and lamb, all served with Hog Roast Northwood's unique interpretation on their traditional trimmings. If meat is not an option for some of your guests, we have a range of exciting vegetarian dishes in our repertoire and we can adjust any dish accordingly to cater for particular dietary needs.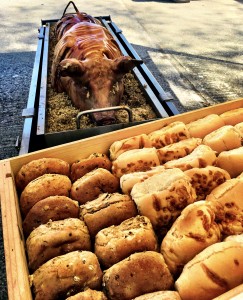 All of our dishes are always prepared from scratch at your venue using the finest locally-sourced ingredient available, no matter where we are cooking or how many people we are catering for. We are able to adapt to any setting, both outdoor and indoors, whilst always delivering excellent results every time.
For large-scale or more relaxed events, we can present your chosen menu as a varied buffet, with our attentive catering team on hand to help your guests out and answer any questions about the food as they help themselves. Alternatively, for extra-special and more formal occasions, such as wedding receptions, we can provide stylish 3-course meals and a canape welcome reception, with our own events staff available to provide professional service.
If you want style, substance and superior ingredients that are impeccably prepared in any location, Hog Roast Northwood can give you everything you need.