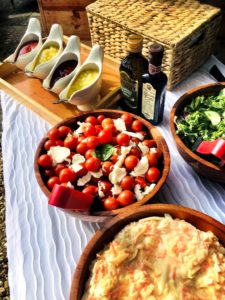 This cosmopolitan suburb in North London benefits from having a diverse community and lots of lovely green spaces to enjoy. Finding  venue to celebrate a special occasion or host an outdoor event for a local community group certainly isn't a problem in Southgate, but you may feel that sourcing a catering company who can meet the different needs of your guests might be a bit more challenging. As a host you obviously want to please everyone and make sure everyone can enjoy a great meal together, and if you enlist the services of the Hog Roast Southgate team, we can make this happen for you. We are primarily hog roast catering specialists and our slow roasted pork is considered to be the best in the area, but we are also a very diverse catering company who can offer varied modern menus that will appeal to a wide range of tastes and dietary requirements. Our emphasis is on providing the highest standard of freshly made food and bespoke catering packages that are ideal for any kind of event in Southgate, from large-scale outdoor gatherings to smaller private parties, corporate dining and special occasions.
Enjoy Culinary Delights From Hog Roast Southgate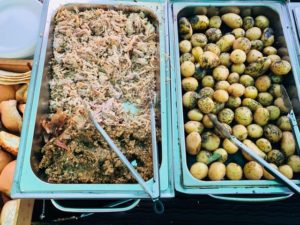 The Hog Roast Southgate team are able to offer you not only the best slow roasted pork around, but also a wide array of other items, including different slow roasted meats, barbecue style dishes, vegetarian and vegan options, beautiful self-service buffets and contemporary 3 course meals with table service provided by our own events team. We will make all of the dishes on your menu from scratch at your venue using the freshest locally sourced produce and ethically reared meat, and we have the flexibility to adjust any part of your menu in order to cater for the individual requirements of your guests. Our style of catering suits events of different scopes and styles and we are comfortable preparing and serving our food in any setting.
If you want to enjoy the finest hog roasts in Southgate whilst also being able to choose from an abundance of other options that are of an equally high standard, the Hog Roast Southgate team are the ideal catering option for your event.