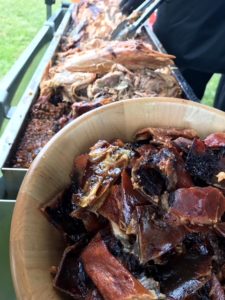 This pleasant town on the River Thames is a great setting for celebrating a special occasion or hosting an event for a local angling or boating club, and whilst choosing a venue might not be too much of struggle, you may not be finding it that easy to source a catering company who can meet all of your needs. This is where the Hog Roast Sunbury team come in. We are the number one hog roast catering company in the Sunbury area and we have many years of event catering experience under our belts. We have revived and elevated a very ancient cooking method and made it our own by cooking our meat using our own market-leading catering equipment and merging it with contemporary menus that are ideal for fun-filled community events and more formal special occasions alike. We are constantly adapting and developing our menus to ensure that our style of food remains in line with the needs and expectations of all of our diners in Sunbury. This is why we are not satisfied with exclusively offering the best hog roasts in the area. As unbeatable as our slow roasted pork is, we strive to ensure everyone loves our food regardless of individual dietary considerations or personal preferences.
Our Creative And Inspiring Hog Roast Sunbury Team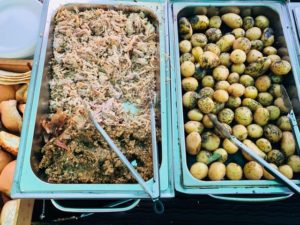 Hog Roast Sunbury's creative catering team are always hard at work inventing new and inspiring additions to our ample range of menu options. We can offer you a wide array of alternative meats, vegetarian and vegan dishes, traditional and more contemporary flavour combinations, seasonal side dishes, vibrant salads, chic 3 course meals and canapes. We always make every part of our menus from scratch on-site whilst the meat is cooking, and we only ever use the freshest and highest quality locally sourced produce in all of our dishes. We are able to cater comfortably in any location in Sunbury without ever diverting from our stringent standards of food and service.
If you want exciting mobile catering solutions for any occasion in Sunbury, the Hog Roast Sunbury team are more than up to the task of making all of your event catering wishes come true.