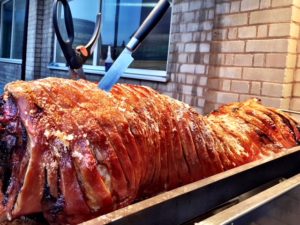 If you want to treat your guests to a taste of the great outdoors in an urban setting, the Hog Roast Tottenham team specialise in giving you exactly that. We have honed the traditional technique of slow roasting meat and made it our own thanks to our innovative catering equipment and talented team. We can offer you the finest slow roasted pork in Tottenham and we can prepare it in any location, either outdoors or indoors, for any number of people. The quality of our meat is of the upmost importance to us and we only ever source our pork from suppliers who utilise ethical production methods. We then ensure we do our top-quality produce justice by expertly cooking it over a number of hours until it is falling of the bone and oozing with its natural flavour and succulence. No matter where we are catering, we always prepare our meat on-site, allowing our diners to witness the final stages of the cooking process and our friendly on-site chef skilfully carving it before it is ready for everyone to tuck in. We are also committed to making all of the rest of our dishes on-site too, using locally sourced produce that is equal in quality to our pork and no matter how extensive your menu is, your food will be freshly made, beautifully presented and ready to be served right on cue.
Tottenham's First Class Catering Team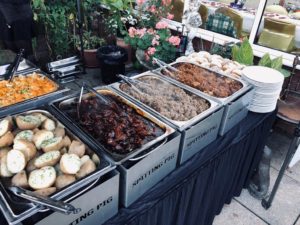 If you do require a more varied menu, we have no shortage of tempting options available you. The Hog Roast Tottenham team are just as adept at preparing a range of other dishes, including alternative slow roasted meats, and vegetarian and vegan dishes. If you require food for a special occasion and you would prefer a more formal sit-down meal, we have plenty of chic 3 course meals options to choose from, as well being able to provide table service and a canape welcome reception, if required.
When it comes to event catering in Tottenham, you won't find a catering company who can supply higher quality hog roasts, or who are more dedicated to giving you a superior dining experience than the Hog Roast Tottenham team.