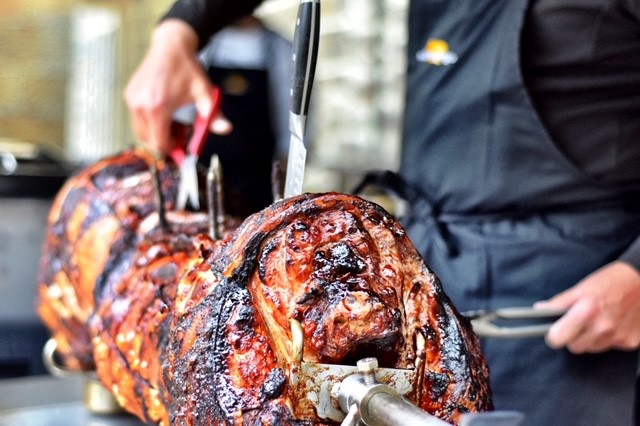 With the multitude of sporting and entertainment events taking place throughout the year, Wembley certainly has its fair share of large crowds and if you are looking for a high quality catering option for any large event or smaller private party, you will find everything you need here at Hog Roast Wembley.
We are known in the Wembley area for our superior slow-roasted pork and our ability to turn our hand to catering for any kind of event in any location.
Every piece of pork we source is carefully selected from the best local producers who rear the meat in the most ethical conditions and our talented chefs invest the time and care required to ensure it is delicately cooked until it is succulent, full of natural flavour and falling off the bone.
Whilst we are best known for our high quality pork, we are also a very well-rounded mobile catering company offering a wide selection of different menus that are cleverly designed to appeal to all tastes, cater for all diets and be suitable for any type occasion.
The Best Hog Roasts In Wembley
Because slow-roasting in the best way of cooking any joint of meat, not just pork, we can also offer a variety of equally succulent alternative meats including sirloin of beef, organic slow-roasted chicken and spring lamb, as well as turkey, sticky ribs and our own gourmet sausages for our themed and seasonal menus.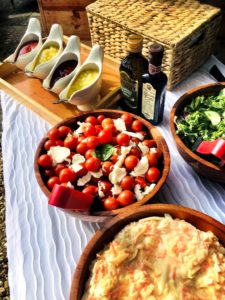 Although we are meat specialists here at Hog Roast Wembley, we don't neglect our vegetarian and vegan diners and we are continually developing our range of meat and dairy-free dishes to go alongside our meat courses, to ensure that regardless of personal preferences or dietary needs, our food can be enjoyed by everyone. It isn't every day that you come across a hog roast catering company that is ready ,willing and able to provide such a wide choice of specialist dishes and it is something we always receive fantastic feedback for at events where the guests have a diverse range of requirements.
We are just as flexible when it comes to our style of service and if you would prefer a more formal sit down meal, we offer sophisticated 3 course meals and canapes, complete with full table service.
Hog Roast Wembley have the vision and dedication to make us the ideal catering choice for any event in the Wembley area.