You may think it's too late to book your private or corporate Christmas party in but with Hog Roast Bow at the helm, we've got you covered! While we offer all kinds of delicious dishes to impress your guests with, at this time of year, we also have our festive menu available, and with your choice of main and no less than seven sides, as well as dessert, it'll hit the spot and get everyone in the Christmas spirit in no time at all.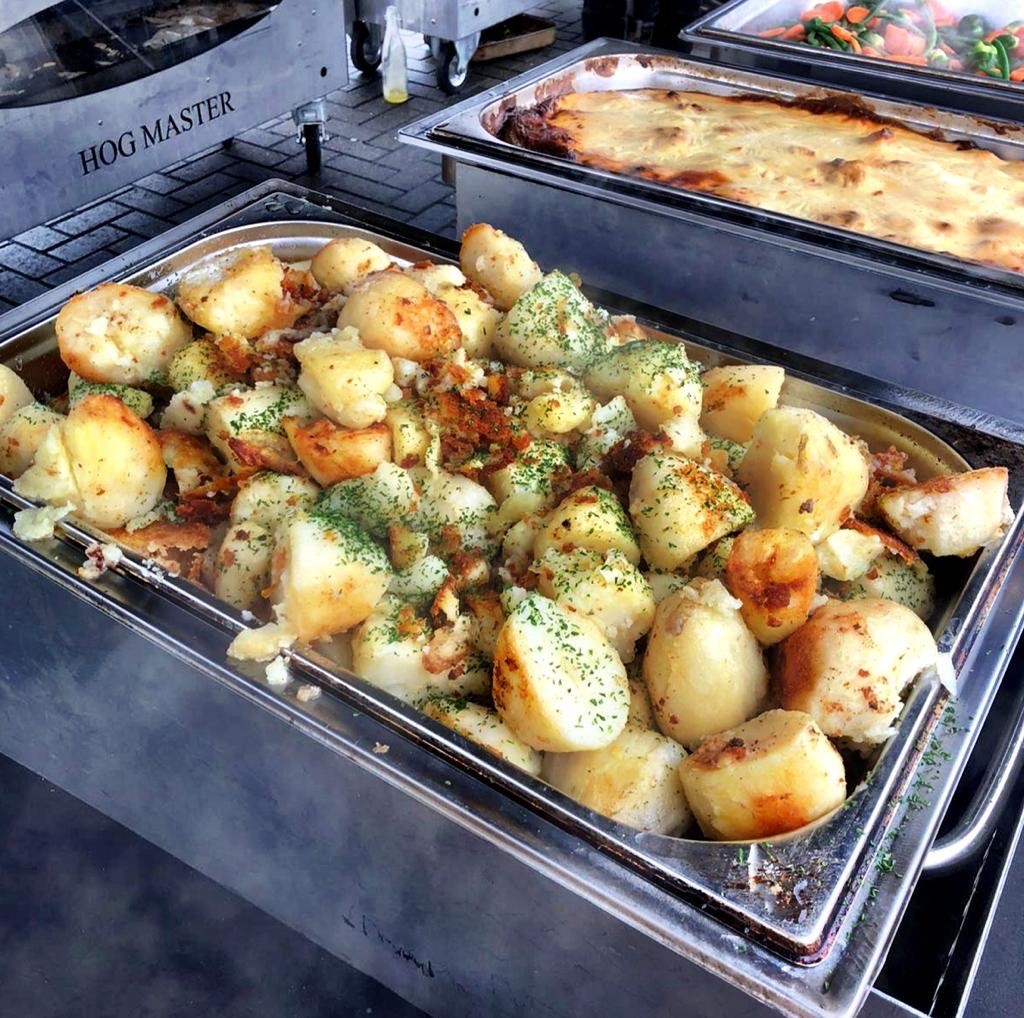 Hog with this seasonal Hog Roast Bow menu, you can choose between traditional whole roasted turkeys, which come complete with trimmings of fresh cranberry sauce and stuffing, or one of our centrepiece hog roasts, served together with salty crackling, apple sauce and sage and onion stuffing. Not forgetting our homemade gravy, which complements the meat perfectly, as well as the amazing sides of pigs in blankets, homemade cauliflower cheese, peas, green beans, sprouts, carrots and roasted potatoes. It's a real treat for your guests, regardless of the type of Christmas party or event we're catering for you.
If you prefer, however, we can still cater with one of our usual menus, whether that's our scrumptious pigs in buns, spit-roasted meat like chicken, lamb or beef, or even a barbecue. We still offer our special standalone menus at this time of year, as we do all-year-round, so if you fancy a Southern Slow Roast or our Loaded Fries, that's not a problem, plus with all kinds of additional dishes available, including canapés, starters, sides and desserts, we can help you to cater with the food that you want.
For a corporate function that Hog Roast Bow catered recently, we wowed everyone with one of our amazing hog roasts, as part of our festive menu, but we were also asked for a vegetarian option. This menu comes with a homemade one already if needed – halloumi and vegetable wraps with Tzatziki – so on the day, we worked hard to create a feast that would be suitable for both carnivores and vegetarians. All of our yummy food was devoured with relish and we were happy to have ensured that everyone invited could eat and enjoy our food.