Andy had had the function room of his beloved local pub booked for months for his much-anticipated 50th birthday party, but like so many other people, he had to face the disappointment of it being postponed when the lockdown was announced. When pubs were allowed to reopen again though, Andy got the good news that his party could go ahead after all albeit later than planned, if he was happy to have it outside in the pub's beer garden instead. Andy was perfectly happy to do this and even though it meant he couldn't invite as many people as he wanted to, he was determined to celebrate his milestone birthday before he ended up turning 51! The original plan for the catering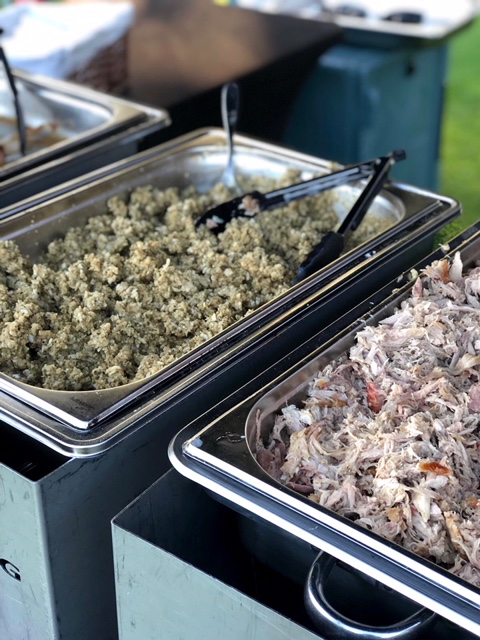 wasn't viable anymore, so with the help of landlord and friend Alan, he set about finding an alternative. Andy was thrilled when he contacted the Hog Roast Norwood team and was informed that we were still able to cater to our same high standard on-site and provide him with the best hog roast experience in the area for his birthday treat! We discussed the logistics with Alan and when he discovered that only one chef and catering assistant would be required on-site to prepare Andy's chosen menu, and that we would clear away all the rubbish afterwards ourselves, he knew maintaining social distancing regulations and sticking to strict hygiene regulations wasn't going to be a problem at all.
On the day of the event, the Hog Roast Norwood duo spent the afternoon in our allocated food prep area making all of Andy's birthday menu from scratch using our usual high standard of carefully selected locally sourced produce. Whilst our talented chef attended to slow cooking one of our signature hog roasts, our equally skilful catering assistant was hard at work rustling up the selection of 3 freshly made salads and new potatoes in herb butter. The guest list may have been a bit more streamlined than Andy had wanted, but the portions certainly weren't! We served generous platefuls of melt-in-the-mouth hog roast sandwiches and freshly made sides for everyone and Andy loved every minute of his birthday celebrations in a place that was special too him. He was very grateful to the Hog Roast Norwood team for stepping in to provide him with such an awesome birthday feast!