We all know that planning a wedding can be a daunting experience, but even in these uncertain times, you can rely on Hog Roast Stanmore to make the process as stress-free and enjoyable as possible! After all, at the heart of every wedding celebration should be a delicious meal that everyone on the guest list can happily dig into, and our team are experts when it comes to whipping up crowd-pleasing feasts that are sure to go down in family history!
When Lily and Connor first got engaged, they spent much of their time debating over what the buffet table should look like. While Lily had her heart set on a classy sit-down meal with plenty of different options for her guests to choose from, Connor was keen to keep things more relaxed by serving some hands-on grub. For a while, it seemed the pair had reached an impasse – that, at least, was until they discovered Hog Roast Stanmore!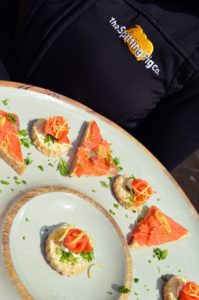 By choosing us for all their catering needs, Lily and Connor were able to find a menu that suited both their needs. After listening to each desire from the couple, our catering manager had recommended our private party menu 5, which offers an exquisite blend of formal dining with traditional spit roasted meat. The duo seemed happy with this resolution, and before too long they had managed to agree on the menu.
With plenty to do and little time to do it, the Hog Roast Stanmore catering crew arrived at the reception venue hours before the serving time. Immediately, they got started on cooking the main courses which included slow roasted pig with all the traditional trimmings, rosemary seasoned spring lamb with mint and mustard and dill sauce and a meat-free alternative of grilled veggie and halloumi skewers. In addition to the mains, the team prepared a trio of freshly tossed side salads and a selection of intricate canapes which were served to the guests upon their arrival.
Lily and Connor were amazed by the attention to detail our catering crew had, and after wolfing down the mouth-watering spread, everyone eagerly awaited the dessert options of chocolate torte and lemon tart to arrive at their tables.