Lots of official fireworks and bonfire displays have been cancelled up and down the country, so Hog Roast St Clement Danes's latest clients made their own bonfire/fireworks evening. The Client, Paula, contacted the team to get them to produce a spectacular buffet for her private family event.
Client Paula had invited her large family to stay with her and she wanted a big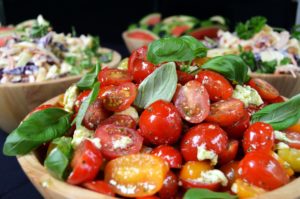 buffet made to fill them up during her impromptu bonfire and fireworks (don't worry, all safety measures were adhered to!). Paula worked with the Hog Roast St Clement Danes team to put together an enviable, luxurious menu for a meal that was to be served at 8pm.
Catering Manager Michael was tasked with bringing this mighty meal to life. He arrived at Client Paula's house several hours before the 8pm serving time. Fortunately the garden was incredibly spacious, so Chef had plenty of space to set up the gazebo, lights and cooking equipment before getting to work on producing the whole meal from scratch.
Chef Michael worked hard to put together the dishes, so that when the 15 guests descended on the serving table at 8pm all the dishes were ready to be tucked into. There was a lot of variety and choice!
There was delicious slow spit roasted chicken served with chipolata sausage, homemade stuffing and an onion gravy. Also on offer was a tasty vegetarian alternative, in this instance a mouth-wateringly tasty vegetarian lasagne. Accompanying these dishes was a whole load of piping hot, perfectly cooked seasonal vegetables and a large platter of warm new potatoes in a tasty herb butter. Finishing off the buffet was a basket of crusty rolls and a selection of sauces.
Client Paula and her guests tucked into the buffet with great enthusiasm. There wasn't much waste left over as Chef Michael discreetly tidied away, but he took all the rubbish away including the disposable crockery and cutlery the team had provided the guests with. All the waste was later disposed of responsibly by the team.
Client Paula sent her thanks and a glowing review for the team, her family firework night had gone off with a bang!