The latest lovely Client at the Hog Roast Norton Folgate team was bubbly and excited Client Louise, the reason for her event made her so excited when she contacted the Hog Roast Norton Folgate team about the catering for her special event. The reason for the family party was very sweet, her husband Keith was coming home after several months of being deployed in war zones abroad.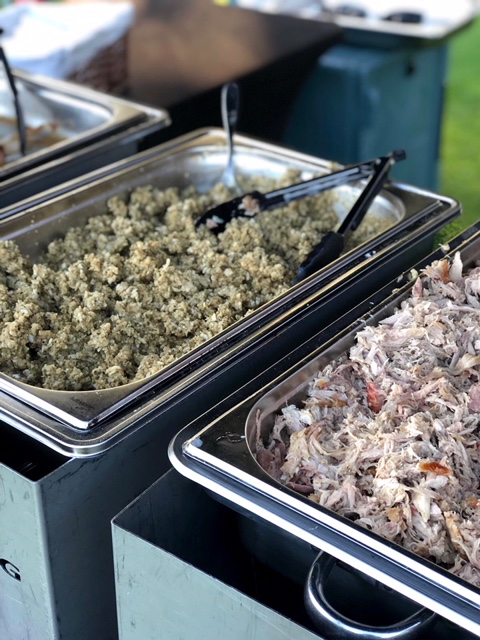 Lovely Client Louise worked with the Hog Roast Norton Folgate team to put together a tasty buffet for her, her 5 children and her returning husband to enjoy. The delicious dinner time buffet was based around the Gourmet Delivery service. Louise wanted the buffet to be full of warming, hearty dishes that would be sure to make her returning husband happy.
Chef Peter worked hard to create the buffet that Client Louise had put together with the team. Every dish was made fresh from scratch at the Hog Roast Norton Folgate kitchens, so that it was ready to be eaten straight away when Chef Peter delivered it to Client Louise's house at 6pm.
The dishes included a Classic Hog Roast, which was a dish that Louise was determined to have as it was her soldier husband's favourite. The pig was slow roasted and scored, sizzled and served in a large transport tray to keep it safe and warm on the journey to Client Louise's house. The Roast was served with crispy crackling, homemade sage and onion stuffing and delicious apple sauce. As well as this, there was also a large tray of loaded fries, a large tray of grilled vegetable and halloumi wraps and a basket of soft rolls.
Client Louise was full of smiles when the food arrived. It was immediately ready to be served to the reunited family unit as the trays had kept the food warm and safe on the trip to the Clients home.
Chef Peter was thrilled to have created the buffet for such a wonderful family reunion after so long apart. The team received great thanks and a glowing review for all their hard work, everything had gone perfectly.